School of Social Work study examines unique barriers to opioid use disorder treatment in rural areas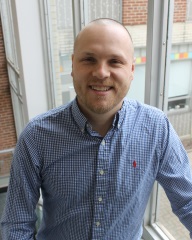 The Wayne State School of Social Work is funding research into the challenges that residents of rural Michigan face when seeking treatment for opioid use disorder [OUD].
Assistant Social Work Professor Jamey Lister received a $5,000 Health Award from the school's Social Work Research Enhancement Program to gather mixed-methods pilot data in Jackson and Lenawee Counties from people with OUD and providers of medication-assisted treatment [MAT]. The data is intended to provide a better understanding of both the barriers and facilitators of rural OUD treatment as well as information that will help guide development of future psychosocial interventions for rural OUD. The study is both collaborative and interdisciplinary, involving colleagues David Ledgerwood of the Wayne State School of Medicine and Addie Weaver and Joseph Himle of the University of Michigan School of Social Work.
According to Lister, in rural areas rates of OUD and efforts to seek or adhere to OUD treatment are likely complicated by psychosocial hardships such as living far distances from providers, financial stress, isolation, shame/stigma, co-occurring mental and physical health problems, and a virtual absence of clinics specializing in substance abuse treatment. His pilot study will gather quantitative and qualitative data from individuals with opioid use problems using surveys and focus groups, and qualitative data from interviews with MAT providers in the community.
Lister, who is involved in several studies involving OUD treatment with patients at Wayne State's Tolan Park Research Clinic and is assisting with the School of Social Work's evaluation of Michigan's federally funded response to the opioid crisis, said developing community partnerships is also a goal of the pilot study.
"We believe this study will help us design an innovative intervention with input from both patients and providers," Lister said. "We also believe that establishing relationships with providers in these areas will help us collaboratively implement future treatments because everyone had a voice in its development."