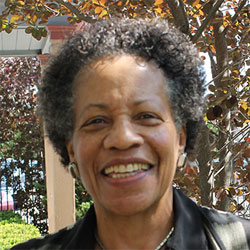 Dorothy Jenkins
Biography
Dorothy Jenkins has been teaching at the Wayne State University for more than 20 years. She has taught all the courses in the school social work sequence as well as personality and developmental psychology. She has also served as a faculty advisor and field instructor during this same time frame. Jenkins teaching philosophy is based on mutual respect for the interchange between teacher and students. She uses the caring habits of William Glasser, M.D. , which are supporting, encouraging, listening, accepting, trusting, respecting, and negotiating differences.
Jenkins creates an atmosphere of mutual respect and anticipation for an exciting learning experience. She is an interactive instructor and starts each class by telling her students something good and asking them to reply in kind. If they can't think of anything, they can make it up or Jenkins will offer to make it up for them. For Jenkins, the idea is for students to move out of their comfort zone, and she tries to create an atmosphere of safety that allows them to do that.
Degrees and Certifications
Ph.D., Psychology
M.S.W
Masters in Psychology
Bachelors in Psychology
School of Social Work Certification
Gerontology Certification
Choice Theory / Reality Therapy; The William Glasser Institute
Teaching Interests
Assessment practices and techniques
Choice Theory
Interactive instruction
Areas of Expertise
Clinical, family, and school social work
Adjudicated youth and their parents
Gerontology.
Research Interests
Adjudicated youth
Intergenerational wisdom sharing
Dream building