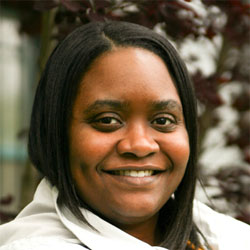 Takisha Lashore
Assistant Director, Office of Field Education
(313) 577-5193
Biography
Takisha LaShore, PhD is currently the Assistant Director of Field Education in the WSU School of Social Work and part-time Faculty member. LaShore began her tenure with Wayne State University in 2006 as an Academic Services Officer I/ B.S.W. Academic Advisor for the Office of Admissions and Student Services. She moved to the School of Social Work's Office of Field Education in 2008.

LaShore has been invited to present locally, nationally, and internationally on topics related to the state of black youth (Detroit MI 2017), child welfare training for social work students (Dallas TX 2017), student success (St. Louis MO 2017), projective identification (England 2017), and student activism (Ireland 2018). Additionally, Lashore participates in many school committees, including the Student Academic Review Committee (Chair), Social Justice Committee (Co-chair), BSW Program Committee, Scholarship and Financial Aid Committee, and Field Education Advisory Committee. She is also a member of the Salvation Army Harbor Light Advisory Council.
Responsibilities
LaShore is responsible for internship placements of B.S.W. and M.S.W. students at the School. Her other responsibilities include co-facilitating the Seminar for Field Instructors, serving as faculty field liaison for assigned undergraduate and graduate students, and assisting with the recruitment, evaluation, and retention of agencies requesting field education affiliation. LaShore is also responsible for the development of policies and procedures related to field education, reinstatement and termination, and professional and technical standards. Additionally, she provides logistics and support for specialized training programs such as the Wayne Together Collaborative, a partnership with the Michigan Department of Health and Human Services for Wayne County.


Degrees and Certifications
Ph.D., Department of Sociology, Wayne State University
M.S.W., School of Social Work, University of Michigan- Ann Arbor
B.A. in Psychology and English Language and Literature, College of Literature, Science, and the
Arts, University of Michigan-Ann Arbor
Licensed Master Social Worker- Clinical and Macro specialty, State of Michigan

Teaching Interests
Equity and Inclusion
Diversity, Oppression, and Social Justice
Social Welfare Policy
Human Behavior and the Social Environment Theory
Areas of Expertise
Cognitive Behavioral Therapy
Children and Families
Youth Delinquent Behavior
Adjudicated Youth
Office Location
5447 Woodward Avenue, Rm 162
Courses Taught
SW 3110 Diversity, Oppression, and Social Justice
SW 4441 Field Education Seminar I
SW 4710 Social Welfare in the United States: Current Programs
SW 4998 Field Practice in Social Work
SW 7560 Human Behavior in the Social Environment I: Micro Theory
SW 7660 Human Behavior in the Social Environment II: Diversity in a Multicultural Society
Grand Challenges Project
A Student-Led Initiative Around Detroit's Water Crisis
It's easy to take clean tap water for granted in America, but widespread shutoffs across Detroit and lead poisoning throughout Flint have placed Michigan in the international spotlight and galvanized a multi-coalition movement around water as a human right. Opportunities for social justice education and practice prompted the School of Social Work and project lead LaShore to create Policy To Action, a community engagement project giving students real-world political action and community organizing experience around regional issues of water insecurity. Funded by the Council on Social Work Education, Policy to Action allows students to respond to the water crisis through central components of learning, exploring, and action. With support from faculty and staff, students have taken a leadership role in identifying community partners and coordinating events that allow for learning and discussion. These have included in-class presentations by People's Water Board and Wayne Law faculty, a documentary viewing co-hosted by the School of Social Work's Social Justice Committee, and a trip to Lansing to lobby on the issue as part of social work's annual Legislative Education and Advocacy Day. Students have also trained and deployed action teams to Detroit communities to educate citizens on advocacy efforts and available relief for shutoffs, helped stage a diversity- focused forum with the Association of Black Social Workers student organization, and helped organize the school's first Social Justice Student Symposium. Learn more