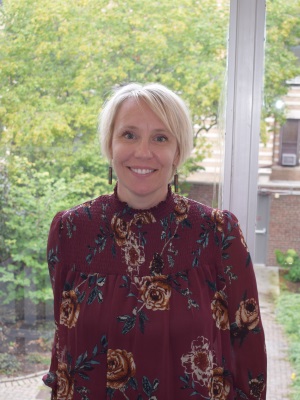 Carolyn Sutherby
Program Coordinator, Center for Behavioral Health and Justice
Biography
Carolyn has been working in the human services field since 1998 and received her MSW in 2002.
Her direct service work has focused on children and families receiving optimal services within systems such as child welfare, schools, and healthcare. As an administrator, she concentrated on integrating systems and creating policies that made services more efficient for clients. Additionally, Carolyn has worked as a clinical therapist providing treatment to children/adolescents, adults, and couples. She specializes in treating women with behavioral health histories who are involved in the criminal justice and child welfare systems. She has also consulted with service providers on creating gender-responsive, trauma informed, and clinically sound programming.
Carolyn has been a social work adjunct professor since 2008, teaching a variety of BSW and MSW courses at four universities. She is also certified to teach the Inside Out Prison Exchange Program. Carolyn is completing her Ph.D. in Social Work at Michigan State University, and her research interests involve maternal mental health and substance use disorders, alternatives to incarceration, and the intersection of behavioral health and criminal justice. She believes the voice of people with lived experience must be included in direct service, research, and policy.
Responsibilities
Carolyn serves as the Michigan Re-entry Project system broker and program coordinator in Kent County. Responsibilities include facilitating regular communication among stakeholders, helping the systems develop and implement processes, working with stakeholders to develop process maps, and facilitating ongoing collaboration with behavioral health, criminal justice, and community treatment stakeholders.
Degrees and Certifications
PhD, Social Work, Michigan State University, expected May 2020
MSW, Grand Valley State University
BS, Sociology, Family Studies, Central Michigan University
Office Location
Center for Behavioral Health and Justice, 5201 Cass Avenue, Suite 226