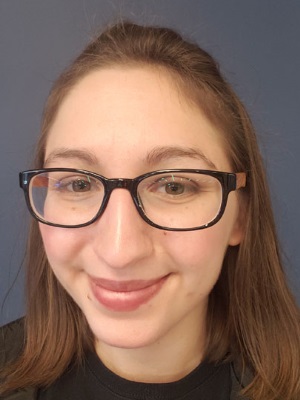 Katie Alfonsi
Biography
Alfonsi was previously a student assistant at College for Creative Studies in 2012. Graduating with her BFA in 2013, she took on many freelance illustration projects and sold her homemade jewelry. After discovering her passion for learning, she applied to Wayne State University's Learning Design and Technology Master's program in the summer of 2018. Shortly after she was accepted into the program, she became a student assistant at the School of Social Work. In the spring of 2019, she began her Secretary III position.
She thoroughly enjoys working with college faculty and staff. Her goal is to help create the best means of memorization for college students of all ages.
Responsibilities
Alfonsis responsiblities include writing tutorials and protocol, event planning, travel planning, document management, ordering supplies, certificate creation, program automation, and various clerical duties. She serves as secretary to many staff members and departments, including the Continuing Education department, the Doctoral Program Director, and serving as a back up to the Deans Administrative Assistant.
Degrees and Certifications
Bachelor's of Fine Arts in Illustration - College for Creative Studies with honors, May 2013 
Office Location
 5447 Woodward Avenue, Lobby Desk