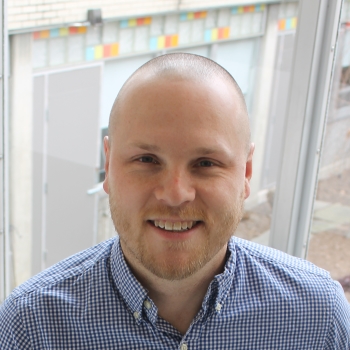 Assistant Professor
(313) 577-4408
Jamey Lister
Biography
Jamey J. Lister has been an assistant professor at WSU School of Social Work since 2015. Dr. Lister's interdisciplinary research focuses on improving access to high-quality psychosocial treatments for people with opioid use disorder and other addictive behaviors. His projects examine psychosocial and clinical factors that influence treatment outcomes across socio-economically disadvantaged rural and urban communities. Collectively, he aims to create translatable knowledge that leads to development and implementation of innovative psychosocial treatments that address disparities in addiction treatment access.
Dr. Lister's investigator-initiated studies have been supported by the U.S. Fulbright Program, WSU Office of the Provost, WSU School of Social Work, and WSU RoBUST initiative. He is part of the evaluation team on the State of Michigan Targeted Response to the Opioid Crisis Grant funded by SAMHSA. Jamey is adjunct faculty at WSU School of Medicine in the Substance Abuse Research Division, where he completed a postdoctoral fellowship. He earned his PhD from Rutgers University and collected his dissertation data at Carleton University in Ottawa, Canada. Dr. Lister's dissertation was the recipient of the National Council on Problem Gambling's annual award. His research has been published in peer-reviewed journals in the fields of substance use and addictive behaviors, social work, and psychiatry.
Click here to view Curriculum Vitae
https://www.researchgate.net/profile/Jamey_Lister
Degrees and Certifications
• Postdoctoral – Wayne State University
• PhD – Rutgers University
• MSW – University of Michigan
Teaching Interests
• Diagnostic assessment; substance use and addiction treatment; research methods; statistics
Areas of Expertise
SUBSTANTIVE AREA EXPERTISE
• Opioid use disorder, gambling disorder
• Co-occurring substance use/addiction and mental health disorders
• Health disparities and health equity
METHODS OF EXPERTISE
• Structured clinical interviewing
• Treatment-seeking populations
• Advanced quantitative methods (e.g., mediation and moderation models)
Research Project
Psychosocial and Treatment Factors among People with Opioid Use Disorder in Urban and Rural Settings
Dr. Lister is the PI on two studies investigating psychosocial and treatment factors among persons with opioid use disorder residing in urban and rural settings. He has an ongoing study examining psychosocial predictors of methadone patient outcomes that involves collaborators from WSU School of Medicine Tolan Park Research Clinic and a mixed-methods study exploring treatment factors among people with opioid use disorder in rural Michigan counties.
Problem and Disordered Gambling: Characteristics and Treatment Recommendations
Dr. Lister conducts research and provides workshops related to problem/disordered gambling across psychosocial and bio-behavioral domains. He is currently a Co-PI on a bio-behavioral team science pilot study investigating a biofeedback training for people with gambling disorder.
Office Location
5447 Woodward Avenue, Rm 053
Courses Taught
SW 7820             Research Methods in Social Work I
SW 8115             DSM in Clinical Social Work Practice
SW 7990             Directed Study (MSW level)
SW 4990             Directed Study (BSW level)
UROP                   Undergraduate Research Opportunities Program (Faculty Mentor)
Grand Challenges Project
Technology-based Treatments for Alcohol Use Disorders
Lister, Associate Professor Stella Resko and Assistant Professor Suzanne Brown are part of a team studying the considerable opportunities for leveraging technology in the delivery of evidence-based intervention and prevention services to address alcohol misuse. With colleagues from Wayne State's Merrill Palmer Skillman Institute for Child and Family Development and the University of Michigan, they are promoting information and communication technologies that include web-based tools, interventions on mobile devices, online counseling and support groups, gaming, and text messaging support, as well as computerized feedback on alcohol use during therapist-delivered interventions. Their work was presented in a special issue of the Journal of Social Work Practice in the Addictions focused on the alcohol misuse Grand Challenge. Learn more
Heroin Abuse Recovery
With university funding, Assistant Professor Jamey Lister and colleagues from the Wayne State School of Medicine are surveying new patients recently admitted to methadone treatment at Wayne State's Tolan Park Research Clinic. The study examines a variety of individual, relational, and community-level risk and protective factors that may influence treatment success. Identifying links between treatment outcomes and psychosocial factors — which could include social support, motivation to change, access to health care and transportation, and co-occurring mental health conditions or trauma histories — might lead to more targeted treatment approaches. Learn more
Lister also oversees student research regarding methadone treatment. He was a faculty mentor for a B.S.W. student's Undergraduate Research Opportunities Program fellowship and oversaw another B.S.W. student's successful conference abstract submission to a leading minority health research conference regarding race and ethnic differences in injection status among patients in methadone treatment.