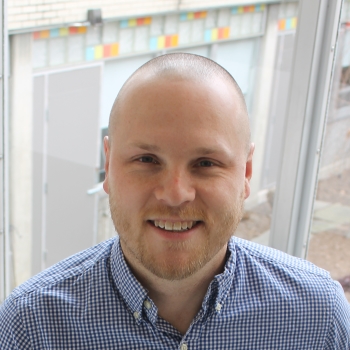 Assistant Professor
(313) 577-4408
Jamey Lister
Biography
Jamey J. Lister has been an assistant professor at Wayne State University School of Social Work since 2015. Dr. Lister's scholarly research focuses on psychosocial and treatment factors among disadvantaged populations with opioid use and gambling disorders. His investigator-initiated studies have been supported by the U.S. Fulbright / Fulbright Canada Program, WSU Office of the Provost, WSU School of Social Work, and WSU RoBUST (bio-behavioral team science) initiative. He is also part of the WSU evaluation team on the State Targeted Response to the Opioid Crisis Grant funded by SAMHSA. Prior to joining the faculty at WSU Social Work, Dr. Lister completed a postdoctoral research fellowship at WSU School of Medicine in the Substance Abuse Research Division. Jamey earned his PhD from Rutgers University School of Social Work (Center for Gambling Studies) and collected his dissertation data at the Carleton University Gambling Lab. His dissertation was the recipient of the National Council on Problem Gambling's annual award. Dr. Lister's research has been published in peer-reviewed journals in the fields of substance use and addictive behaviors, social work, and psychiatry.
Click here to view Curriculum Vitae
https://www.researchgate.net/profile/Jamey_Lister
Degrees and Certifications
• Postdoctoral Research Fellow – Wayne State University
• PhD – Rutgers University
• MSW – University of Michigan
• BSSW – Miami (Ohio) University
Teaching Interests
• Psychiatric disorder diagnostic assessment
• Substance use and addictive behavior treatment
• Research methods, mentored-student research
Areas of Expertise
SUBSTANTIVE AREA EXPERTISE
• Clinical and psychosocial characteristics of addictive behavior
• Opioid use disorder, gambling disorder
• Co-occurring substance use/addiction and mental health disorders
• Health disparities, socio-economic disadvantage
METHODS OF EXPERTISE
• Structured clinical interviewing
• Treatment-seeking populations
• Advanced quantitative methods (e.g., mediation and moderation models)
Research Project
Psychosocial and Treatment Factors among People with Opioid Use Disorder in Urban and Rural Settings
Dr. Lister is the PI on two studies investigating psychosocial and treatment factors among persons with opioid use disorder residing in urban and rural settings. He has an ongoing study examining psychosocial predictors of methadone patient outcomes that involves collaborators from WSU School of Medicine Tolan Park Research Clinic and a mixed-methods study exploring treatment factors among people with opioid use disorder in rural Michigan counties. Collectively, these projects aim to improve opioid use disorder treatment for socio-economically disadvantaged populations. 
Problem and Disordered Gambling: Characteristics and Treatment Recommendations
Dr. Lister conducts research and provides workshops related to problem/disordered gambling across psychosocial and bio-behavioral domains. He is currently a Co-PI on a bio-behavioral team science pilot study investigating a biofeedback training for people with gambling disorder.
Office Location
5447 Woodward Avenue, Rm 053
Courses Taught
SW 7820             Research Methods in Social Work I
SW 8115             DSM in Clinical Social Work Practice
SW 7990             Directed Study (MSW level)
SW 4990             Directed Study (BSW level)
UROP                  Undergraduate Research Opportunities Program (Faculty Mentor)