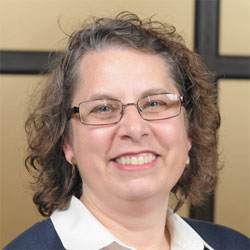 Susan Lebold
Assistant Professor, Teaching
313-577-9917
Biography
Susan Lebold's professional career took a number of twists and turns before she joined the faculty at Wayne State in 2014 and held the role of B.S.W. Coordinator from 2016 - 2017. After receiving her law degree at The Ohio State University in 1983, Susan worked in West Germany defending U.S. soldiers facing criminal charges in the United States military courts. As a lawyer in Charlotte, N.C., she represented troubled children and youth who were court-involved in the child welfare, juvenile justice, education and mental health systems. In West Chester, Penn., she had a family law practice and advocated for birth parents involved in the foster care system, protecting their parental rights and helping them access services so they could be reunited with their children.
After moving to Massachusetts, Lebold expanded into the field of social work and in 2000 obtained her M.S.W. with a certificate in Human Service Management from Boston University. As the assistant executive director of Jewish Family Service of Metrowest in Framingham, Mass., she developed and oversaw programs to serve vulnerable elders, families and children, and developed numerous organizational systems and policies to enhance operational efficiency and service quality. She also led the organization through two accreditation cycles, built the agencies first fundraising infrastructure, and worked to build community partnerships focusing on reducing ethnic disparities in health care.
In 2008, Lebold relocated to Ann Arbor, where she studied mediation, dialogue and deliberation, and alternative dispute resolution, and became a founding member of BDL Mediation, LLC. As a consultant to the Child Welfare Resource Center at Michigan State University, she provided technical assistance and support to the Michigan Department of Human Services during a period of court-mandated child welfare reform in 2008-09. In that role, she researched the literature on best child welfare practices and evidence-based programs, conducted focus groups of public and private child welfare professionals, co-wrote the final statewide needs assessment report, and designed a mandatory 40-hour training curriculum for permanency planning caseworkers, supervisors and specialists.
In 2010, Lebold began teaching part-time at Eastern Michigan Universities School of Social Work, focusing on practice courses involving communities and organizations, social policy, and developing writing skills. In 2013, she joined the Michigan Race Equity Coalition, a collaboration of juvenile justice and child welfare system leaders and policymakers in Michigan charged with examining racial disproportionality in those systems. As a member of the planning, research and evaluation team, Lebold produced a toolkit of best practices, lessons learned, and process strategies to guide communities tackling racial disparities in their local child welfare and juvenile justice systems.
Lebold is always looking for interesting research and community-based projects that align with her goal of bringing diverse groups together to address thorny community problems.
Click here to view curriculum vitae
Degrees and Certifications
M.S.W., Boston University

J.D., The Ohio State University

B.A., Social Science, The Ohio State University
Teaching Interests
Policy practice and community-based change
Organizational systems and processes
Program development and design
Leadership and change management
Communication and conflict resolution practices
Fundraising and program development
Quality improvement
Areas of Expertise
 SUBSTANTIVE AREA EXPERTISE
Social policy, criminal justice
Racial disparities in child welfare and juvenile justice
Organizational and program development, management and leadership
Community based collaborative planning and intervention
METHODS EXPERTISE
Mediation and conflict resolution techniques
Large group facilitation, dialogue and deliberation 
Strategic planning, program development
Qualitative data collection
Office Location
5447 Woodward Avenue, Rm 029
Courses Taught
SW 4010 Social Work Macro Theory and Practice
SW 4997 Integrative Seminar in Social Work
SW 6535 Juvenile Delinquency: Social Functioning
SW 8770 Advanced Policy Analysis
Grand Challenges Project
A Voice for Flint Residents 
For the public health community, an adequate response to the Flint water crisis requires not only the provision of a safe water supply and long-term health care and monitoring, but careful attention to residents' emotional and psychosocial responses. Because giving residents a role in the public health response is critical to this support, School of Social Work faculty have brought community engagement expertise to The Flint Area Community Health and Environment Partnership (FACHEP), a multidisciplinary group of institutions and individuals working to identify and reduce exposure to Legionella bacteria in Flint residences and institutions. With funding from the Michigan Department of Health and Human Services (DHHS), Associate Dean for Research Joanne Sobeck, Professor Poco Kernsmith, and Associate Professor for Research Joanne Smith-Darden developed a survey to be administered at the time of water collection to assess behavioral health needs and connect residents with needed services. Working in three-person teams, social work-trained community specialists have used the survey to conduct nearly 200 interviews with Flint-area residents. Recruitment and data collection are assisted by M.S.W. advisor Tamarie Willis and two M.S.W. student interns, who have received guidance from Lebold in identifying ways that health inequities are exacerbated by socially unjust actions. The study ended in December 2017 and investigators will present results to Flint residents, partners, agencies, and professional groups such as the Society for Social Work Research and the American Public Health Association. Learn more