Coalition of Community Social Workers aims to bolster students' leadership and community-building skills
Since 2015, the Coalition of Community Social Workers (CCSW) has been participating in political action, community activities, and volunteering events to further the values of Wayne State University's School of Social Work.
"What I enjoy most about CCSW is its horizontal-leadership style, which ensures all group members have an equal say in the events we pursue and the platforms we promote," said Casey Lee, one of their current co-presidents.
The coalition based-organization focuses on uniting social work students of all practice levels (macro, mezzo, micro) and students of other disciplines across campus to develop and strengthen students' leadership and community-building skills.
CCSW has sponsored many service projects and events over the past eight years, more notably, the group introduced the Student Excellence of Social Justice Award in 2021, recognizing students who have gone beyond their studies to impact their community. Up to five students will be selected annually to receive the award.
They've also participated in a book drive; a training course to teach people to recognize the signs of an opioid overdose and administer the opioid overdose reversal drug Naloxone; and a panel on immigration rights.
Future events include an anti-racism and art workshop in partnership with the Rad(ical) Social Workers student organization and an environmental justice event at Graft Living Studios, which will explore interdisciplinary approaches to community change and include a volunteer opportunity in their urban food forest.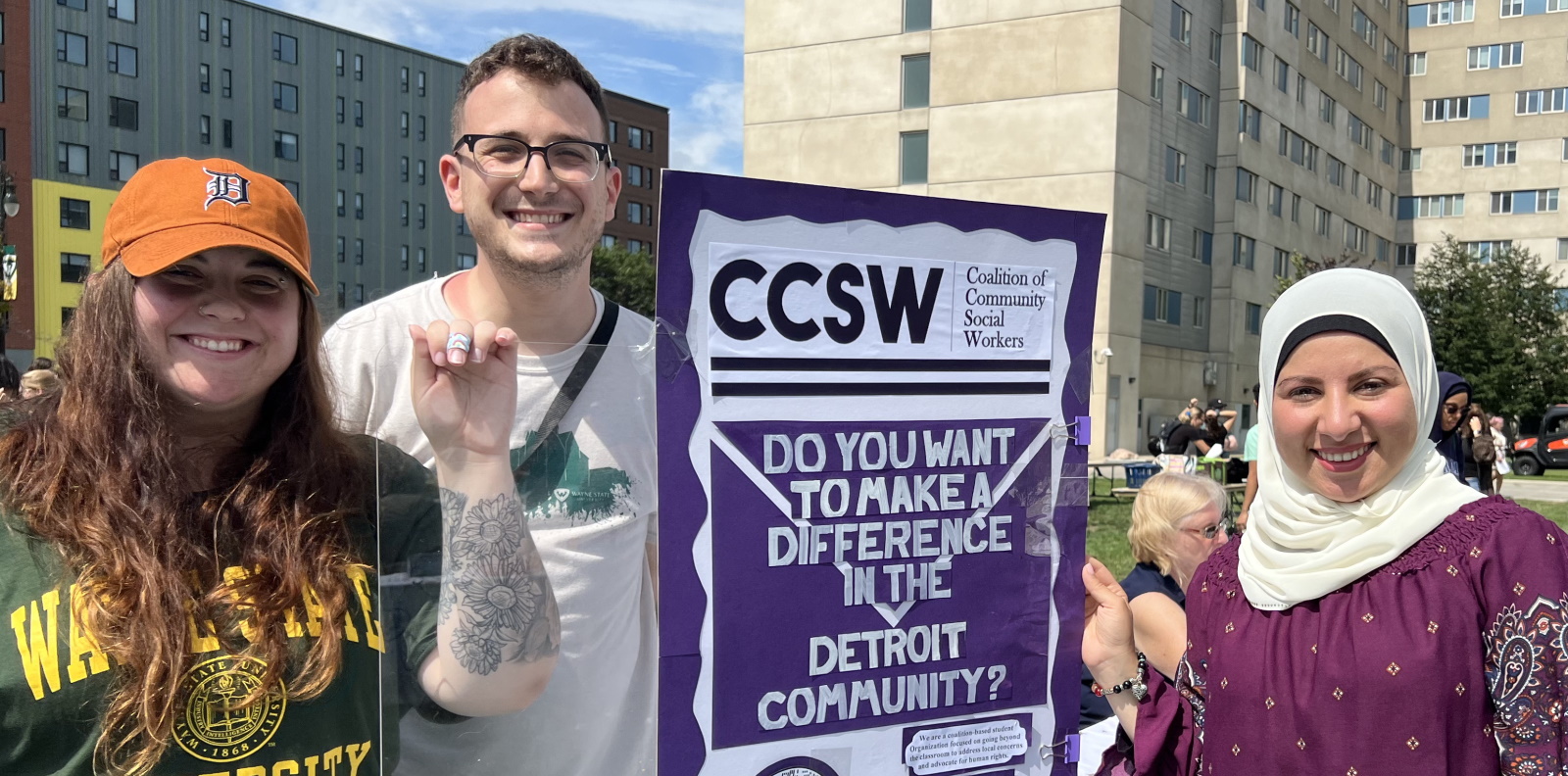 Co-president, Tamara McQueen appreciates the opportunities CCSW offers to broaden the scope of social work students.
"Everyone has such unique experiences and ideas, being able to see them come to fruition has been amazing," McQueen said.
Vice-president, Cara Murphy, echoes McQueen's thoughts.
"It has been wonderful sharing our ideas and working together to help others," Murphy said.
Students interested in connecting with CCSW can visit Get Involved, follow them on Instagram, and email Lee at gl0773@wayne.edu or McQueen at hi3892@wayne.edu.
---
Author: Laura Hipshire laurahipshire@wayne.edu