School of Social Work Dean receives Miriam C. Noland Award for Nonprofit Leadership
Since Sheryl Kubiak joined Wayne State University's School of Social Work (SSW) as its ninth dean in 2018, she has made many strides. The very year she became dean, she helped to launch The Center for Behavioral Health and Justice (CBHJ), a 'center of excellence' designed to assist local communities, organizations, and behavioral health and law enforcement agencies across Michigan in diverting individuals with mental health and substance use disorders from the criminal justice system to appropriate treatment. The center provides expertise, evaluation, support, training, and technical assistance to inform effective, evidence-based policy and programs. Founding this critical center was just one of Dean Kubiak's many successful initiatives.
Recently, Kubiak received the Miriam C. Noland Award for Nonprofit Leadership. This annual award, established by the Board of Trustees of the Community Foundation for Southeast Michigan, recognizes a nonprofit leader whose service to his/her institution exemplifies the importance of personal commitment to philanthropy. The award also acknowledges the importance of nonprofit leadership that influences beyond the university's walls and impacts the larger philanthropic community in a positive way. In addition to honor and recognition, the award includes a $10,000 grant toward continuing education, a personal sabbatical, career rejuvenation, or philanthropic leadership activities.
"I was absolutely shocked and delighted when I found out about the award," Kubiak said.
"Non-profit leadership – whether in a community organization or a school of social work within a university setting – often requires creativity, operating on a shoestring and making the most of your resources and connections. My personal focus has been on the intersection between behavioral health and the criminal/legal system. This is where the support of philanthropy has been instrumental in assisting change efforts in counties across the state of Michigan," she said.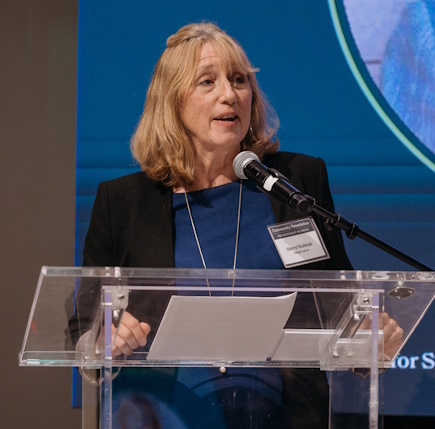 A few excerpts from Kubiak's award nomination include:
"Dr. Kubiak has been a key partner to the Community Foundation through both our Michigan Opioid Partnership and Michigan Justice Fund efforts. For the Michigan Opioid Partnership, Dr. Kubiak and her team worked across the state to staff our effort to support people who are in jail while being treated for an opioid use disorder. Her innovative approach has helped us to better serve this population and increase their chances of a successful recovery both within jails and once they return to community."
"As a key grantee of the Michigan Justice Fund, Dr. Kubiak's work has been transformational for criminal legal policy reform across Michigan. She has served as a gubernatorial appointee to the Michigan Joint Task Force on Jail and Pretrial Incarceration and the state's Criminal Justice Policy Commission and works closely with advocates statewide to address disparities impacting marginalized communities by catalyzing data transparency and applying a public health-informed lens to public safety solutions."
In addition to leading Wayne State's School of Social Work, founding the CBHJ is one of Kubiak's proudest accomplishments.
"It has grown from a staff of seven who came with me from Michigan State University to over 40 today. CBHJ is doing work to enhance diversion and deflection in 34 counties across the state, as well as working with statewide entities to address policy issues," she said.
"Social workers advocate for the most vulnerable in our society – and those involved in the criminal/legal system are among our most vulnerable. We know that there are disparities and inequities about who is charged and convicted and that those involved in the criminal legal system are more likely to have mental health and/or substance use disorders than those in the general public. We also know that when a family member is confined, the whole family system is punished through lost relationships and/or wages, etc. Finally, a conviction stays on your record and can create hardship for decades to come in terms of employment opportunities and access to housing. I want to demonstrate that social workers have an important space here; working with individuals and promoting system change."
Kubiak, accompanied by her husband, Michael, and Mark Kornbluh, WSU's provost and senior vice president for academic affairs, was presented the award at a ceremony last month.
"I appreciate the recognition of our efforts at the SSW/CBHJ to address real life concerns in our communities. The model that CBHJ uses to facilitate change efforts across sectors and regions is one in which universities are ideally suited to translate best practice into action," she said.
---
Hero photo caption from left: Mariam Noland, Dean Sheryl Kubiak, and CFSEM President Ric DeVore at the 2023 Community Foundation of Southeast Michigan Annual Meeting and Awards Ceremony.
Author: Laura Hipshire laurahipshire@wayne.edu; Editor: Betsy Vanderstelt fq0994@wayne.edu
Faculty spotlight