Social Work student pursues her passion in and out of the Olympic pool
For Wayne State University School of Social Work graduate student Catherine De Loof, swimming has been a way of life. Her decades of dedication were recently on display as a member of the U.S. Swimming Team competing in Summer 2021 Olympics games held in Tokyo.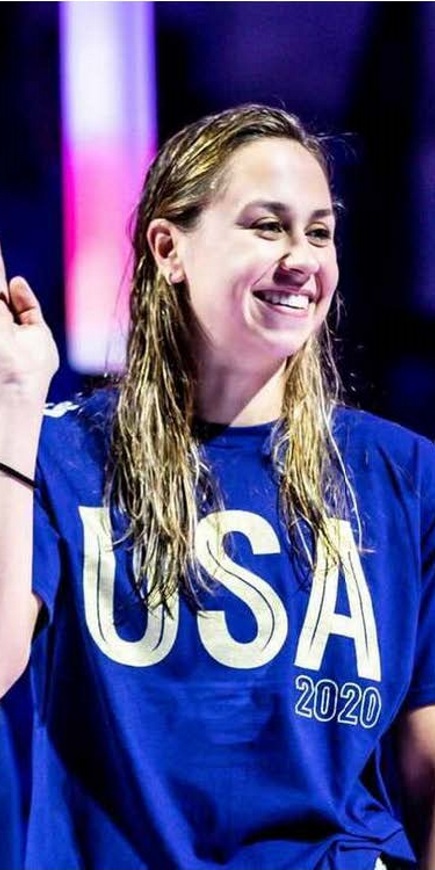 Sports and swimming were a family affair for De Loof, who began swim lessons with her sisters, Alexandra, Gabrielle and Jacqueline, at the age of three. De Loof began competitive swimming at the age of six for a summer league at the Grosse Pointe Yacht Club where she learned to competitively swim and refine her stroke techniques. Soon after De Loof's parents discovered that their children had a talent for swimming and De Loof began year-round swimming with Pointe Aquatics. The De Loof sisters competed in swim meets and slowly progressed from making districts, to states, to sectionals and national meets at the elite level. Their talent was not limited to the pool and they also played soccer, basketball, tennis and track. While the other sports provided great team learning experiences for the De Loof sisters, their ultimate success was in the pool. All three represented Grosse Pointe South High School and were recruited for division one swim at the University of Michigan. Throughout her swim career, De Loof has competed in sprint freestyle, primarily the 100 m freestyle but also the 50 m and 200 m freestyle as well as the 100 m backstroke.
To earn her slot in the Summer 2021 Games, De Loof competed in the Olympic Team Trials and on July 24, 2021, De Loof competed in the Olympic 100 m freestyle as part of the 4 x 100 freestyle relay.
Although this was her first time participating in the Olympic Games, this is not De Loof's first foray into the sphere of global swimming competitions. De Loof previously represented Team USA at the 2019 World University Games in Napes, Italy. She also participated in the International Swim League, which brings together competitors from across the globe to compete in a professional swimming league, similar to professional football or basketball.
Although swimming has been at the heart of De Loof's youth, she also developed a passion for helping others early on. "I believe through social work one can help promote healthier lifestyles and be able to see change as well as be the change in promoting social justice." In 2019 De Loof received her B.A. from the University of Michigan in Sociology, with a focus in Law, Justice and Social Change. She is currently a student in the Wayne State Master of Social Work (MSW) Program with a concentration in interpersonal practice. "I grew up near Wayne State and my mom also attended Wayne for undergraduate, graduate and medical school. The School of Social Work is a great school and will provide me the education and experience to serve individuals who are vulnerable, teach me how to advocate for social justice, and to improve the quality of life for individuals and the community. I love Detroit and all that the school, as well as the urban community, has to offer."
De Loof credits professional commitment and listening as key skills which have helped her find success in the pool and classroom. "Being successful in social work requires lifelong learning. Social workers must have a professional commitment to values and ethics in order to be competent to serve all people. Similarly, as a swimmer there are many long hours of practice and training that one commits to become an elite professional swimmer." One of the primary skills used by social workers is active listening, the use of thoughtful listening, observation of non-verbal cues and accurate paraphrasing when working with clients. "As an Olympian I also have to actively listen to ensure I hear and understand my coach and fellow swimmers to improve as a person and athlete." For De Loof, empathy also plays a big role in both worlds. "As a social worker understanding another person's experience and point of view is vital. By stepping into someone else's shoes, it helps us as social workers to develop better relationships. Meeting other swimmers at meets or even in training and competing with my team members has allowed me to recognize that others can perceive their event and race differently and give me a worldwide perspective as I travel internationally."
After completing the MSW program, De Loof plans to work as a school social worker in a high school. "I had an awesome experience mentoring high school teens at the University of Michigan. While this group of individuals may be challenging to work with, it can also be very rewarding to know that you have made a positive impact upon them."
I would encourage anyone to pursue their dreams and passions. They are critical to achieving ultimate happiness and leading a full-enriched life. Even in the face of adversity, smile and find ways to break down barriers and build resilience. If you work hard and are determined, it can be achieved. - Catherine De Loof