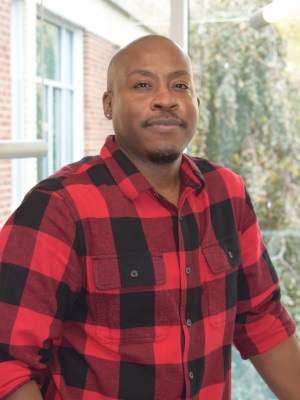 Bakari Wallace
Biography
Bakari Wallace, PhD, is a postdoctoral research fellow at Wayne State University, School of Social Work. He completed his doctorate at the University of Wisconsin-Madison, specializing in community-based research. Specifically, his research focuses on how racial-structural paradigms like antiblackness shape the experiences, perceptions, knowledge, and behaviors of those who identify, and are identified as, Black men and boys. For example, his dissertation explored the link between personal histories of a select group of Black fathers, their perceptions of how society views Black men, and, subsequently, their approach to the racial socialization of their children.

Broadly, as an interdisciplinary scholar, his research interests range from the effects of mass incarceration on the Black community, police and prison abolition, Black youth civic participation, Black radical social movements, and historical methods of Black radical community organizing.
Hailing from Detroit, MI, he professionally practiced as a clinical substance abuse counselor in the juvenile justice domain. Additionally, his teaching record reflects his research interests, wherein he instructed a graduate-level course titled Social Justice in Social Work at North Carolina A&T State University and co-instructed an undergraduate-level course titled Protest, Policing, and Social Justice Movements at the University of Wisconsin-Madison.
Degrees and Certifications
PhD – University of Wisconsin-Madison, School of Human Ecology, Civil Society & Community Research
MSW – University of Michigan-Ann Arbor, School of Social Work, Community & Social Systems
BS – Wayne State University, School of Business, Advertising & Marketing Communications
Awards and Honors
Advanced Opportunity Fellow 2015-2018, University of Wisconsin-Madison
Community-Based Initiative Scholar 2012-2014, University of Michigan-Ann Arbor
Wheeler Family Memorial Scholarship 2012-2013, University of Michigan-Ann Arbor
Teaching Interests
Social Justice
Community Organizing
Social Movements
Black Radical Tradition
Research Interests
Antiblackness
Critical Race Theory/Studies
Black Male Studies
Black Fatherhood
Community-Based Participatory Action Research
Carceral/Prisoner Reentry Studies
Police and Prison Abolition
Community-based Program Evaluation
Youth-of-Color Community Organizing
Youth-of-Color Participatory Action Research