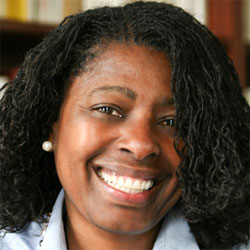 Fay Keys
Associate Professor, Clinical, and Education Technology Coordinator
 Expert in gerontology, and online and remote learning
5447 Woodward Avenue, Rm 154
(313) 577-3154
Biography
Keys came to Wayne State University from the George Warren Brown School of Social Work at Washington University in St. Louis, where she completed her post-doctoral studies funded by the National Institute on Drug Abuse. In addition to her online teaching duties, Keys serves as the Coordinator of Education Technology. She works with faculty, staff, and students to develop sophisticated learning environments that incorporate the use of advanced technologies. She is responsible for designing, developing, implementing, and evaluating new technologies for teaching and learning in the School of Social Work. She finds ways to use technology to enhance student learning and monitor the introduction of new technology into a school's curriculum.
Keys mentors new online faculty and trains experienced ones in the latest online instructional methods. Her current research is concerned with the learning impact of various approaches to online learning and teaching. Additionally, her research centers on behavioral addictions (i.e., casino gambling), risk taking, and antisocial behaviors of urban elders.
Click here to view Curriculum Vitae
Degrees and Certifications
D.L., Widener University School of Law
M.S.W., University of Pennsylvania
M.L.S., University of Pittsburgh
Awards and Honors
Inaugural member of the Wayne State's Academy of Teachers, 2018
Wayne State's President's Award for Excellence in Teaching, 2013
School of Social Work, Teaching Award, 2021 and 2012
Teaching Interests
Social welfare policy
Aging/gerontology
Social work methods of practice: individuals, families, and groups
Areas of Expertise
SUBSTANTIVE AREA EXPERTISE
Online teaching and learning research

Behavioral addictions, risk taking and antisocial behaviors of urban older adults
METHODS EXPERTISE
Research Project
A Longitudinal Study: Gambling Attitudes, Motivations, and Gambling Patterns Among Urban Elders
Role: Principle Investigator. This study investigates gambling attitudes and motivations reported by urban older adults. While there is a steady increase in the number of legalized gambling venues, few longitudinal studies have investigated gambling attitudes and motivations among urban elders. This investigation follows up on a longitudinal, population-based survey of 1,410 older urban adults by Zaranek and Chapleski published in 2002. The follow-up was stratified based on gambling frequency. The final sample of 247 residents age 60 or older in Detroit self-reported at time 1 (the 2002 study) that they never, rarely (few times a year), or frequently (monthly or more) went to a casino to gamble. The current study (2008) expanded the baseline interview by asking more in-depth questions about older adults attitudes and motivations toward casino gambling. Due to 64% sample attrition of at risk gamble from the original study to the current study, the current sample was overwhelmingly a non-problem gambling sample. Reported attitudes toward gambling were generally positive, but some disturbing attitudes and behaviors also emerged. This study is funded by Michigan Urban African American Aging Center.
Role: Co-principle Investigator. Guided by symbolic interaction theory, the main purpose of this research study was to begin to explore or understand the perceived gerontological academic needs of undergraduate and graduate students. The study hypothesized greater need for gerontological content. The sample consisted of 42 urban university students who participated in an asynchronous (non-real time) online discussion group. The discussion consisted of (1) interest in gerontological social work among students; (2) barriers gerontological social work; (3) current aging content; (4) challenges and gaps gerontological social work; (5) efficacy of aging as special topic; (6) recommendations for getting students interested in social work practices for the master level social work education. This study is funded by the Council of Social Work Education.
For further details on other research, see Center for Social Work Research:http://research.socialwork.wayne.edu/index.php?option=com_content&view=article&id=154&Itemid=89
Courses taught by Fay Keys
Fall Term 2023 (current)
Spring-Summer Term 2023
Winter Term 2023
Fall Term 2022
Spring-Summer Term 2022
Winter Term 2022
Fall Term 2021