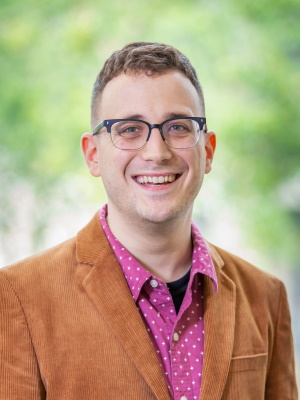 Andre Iadipaolo
Academic Services Officer II
313-577-4409
Biography
Andre Iadipaolo currently serves as an Academic Services Officer II, with a focus in Student Retention and Recruitment. Iadipaolo also leads the Social Work Student Alliance (SWSA), working alongside the various Social Work Student Organizations to implement student activities, resources, and advocacy projects. His work with students seeks to create rich professional engagement opportunities outside the in-person and virtual classrooms. Iadipaolo received his MSW with a concentration in Community Development from Wayne State University in May 2020. He specializes in capacity building and small-group development, with a particular interest in voting rights, equitable access, and community organization.

Prior to arriving at Wayne State School of Social Work, Iadipaolo worked as Outreach Specialist at non-profit group Transportation Riders United (TRU), where he advocated for more and better public transportation services across Metro Detroit. Iadipaolo also has a strong background in voting advocacy, having organized the Fall 2020 Wayne State 'Social Work Votes' Campaign and Fall 2020 'Virtual Campaign School' seminar.
Responsibilities
In his Academic Services role, Iadipaolo partners with educational stakeholders across the region to recruit new students into the Wayne State Bachelors and Master of Social Work programs. Through individual and group meetings, Iadipaolo aims to get students excited about social work and see how widely applicable the field is. As Student Activities Coordinator, Iadipaolo facilitates student-centered events, activities, and resources with the Social Work Student Alliance (SWSA). The Social Work Student Alliance serves as a liaison between the general student body and the Social Work Student Organizations, connecting individual students to the various programming done by Student Organizations.
Degrees and Certifications
Master of Social Work, Wayne State University - 2020
Bachelor of Social Work, Wayne State University - 2019