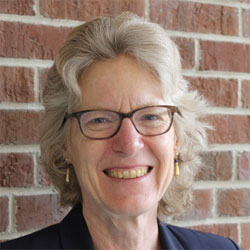 Associate Professor and Associate Dean for Academic Affairs
313-577-4401
Joy Ernst
Biography
Joy Swanson Ernst is Associate Professor and Associate Dean for Academic Affairs.  Dr. Ernst is a Hartford Geriatric Social Work Faculty Scholar.  Prior to joining the Wayne State faculty in 2016, she was Professor of Social Work and director of the social work program at Hood College in Frederick, Maryland.  She received her PhD in 1999 from the University of Maryland School of Social Work. While there, she was the research director for the Family Connections program.  She has had social work positions in agencies that serve families and children and runaway and homeless youth.   Dr. Ernst's research interests include elder mistreatment and adult protective services (APS) programs. She has published articles on elder self-neglect, the use of multidisciplinary teams in APS, the neighborhood correlates of child maltreatment, child welfare practice in New Zealand, and several book chapters on elder abuse and neglect.  She serves on the research committee for the National Adult Protective Services Association and is a member of the Board of the National Center for the Prevention of Elder Abuse.
Click here to view Curriculum Vitae
Degrees and Certifications
• PhD, University of Maryland, Baltimore
• M.S.W., Rutgers University
• B.A., History, University of Chicago
Teaching Interests
• Human rights and social justice
• Social work practice with older adults
• Social welfare history
• Social policy
Areas of Expertise
• Elder Justice
• Elder Abuse and Neglect
• Adult Protective Services (APS) programs
• Gerontological social work education
Grand Challenges Project
Responding to Elder Self-neglect
With colleagues from the National Committee for the Prevention of Elder Abuse and the National Adult Protective Services Association, Ernst is working on a project to significantly enhance existing knowledge regarding responses of APS and other programs to self-neglect. Funded by the U.S. Administration for Community Living, "Self-Neglect Knowledge, Policy, Practice & Research: Realities & Needs" entails a systematic review of the self-neglect literature published in the United States over the past 20 years to analyze research addressing policy and practice issues, including tools and scales used by APS to assess and address self-neglect.Because most self-neglecting older adults are socially isolated, enhancing the knowledge base on self-neglect to inform future research, policy, and practice going forward fits with the Social Work Grand Challenge to eradicate social isolation.