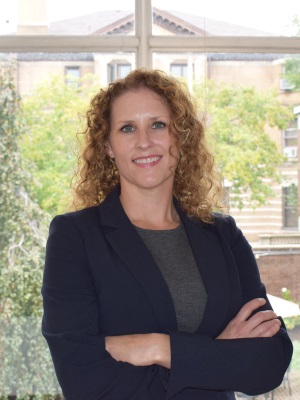 Kathryn Wright
Teaching Interests
Kathryn Wright has taught in a number of settings and disciplines. At Wayne State, she has taught in the anthropology department and provided guest lectures to advanced standing MSW policy courses. In addition, she has provided guest lectures at other institutions in Teacher Education departments and Anthropology departments. 
Wright has also provided continuing education units to social workers focused on accessibility in social work practice. 
Research Interests
Kathryn Wright is at the final stage of a joint degree in social work and anthropology. Her dissertation, using qualitative methods, investigates the identities and social relations of racialized middle school students labeled with disability in the broader social context of racism, ableism, and class-based prejudice. This research, a 10-month ethnography using participant-observation, interviews, and focus groups, draws implications for learning sciences, education policy, and social services provision.
Wright is interested in the role of social engagement in extending or limiting personhood, well-being, and positive identity development, and how social engagement intersects with conceptualizations of disability. She further examines how disability, particularly intellectual and developmental disability, is defined by academic disciplines and fields of practice and the alternative conceptualizations of disability that spring from disabled communities and disability activism.
She is interested in macro practice, policy advocacy, and school social work. With training in socio-cultural anthropology, she focuses on qualitative methods, particularly ethnography.
Courses taught by Kathryn Wright
Spring-Summer Term 2022
Winter Term 2022
Fall Term 2021