COVID-19 patient improvement and well-being initiative
COVID-19 has touched everyone, impacting our health, our homes, and the way we connect with others. The daily reports on the prevalence of the disease are difficult to hear about, and are made worse by the lived experiences of those hospitalized with COVID-19 and their caregivers. All patients are unable to have visitors, and many have difficulties connecting with family members for support. Patient recovery time varies, but when admitted to a hospital room that is devoid of life or simple distractions like a picture or a book, it can seem like an eternity.  In a recent meeting between the Detroit Medical Center (DMC), WSU-Integrative Biosciences Center and the School of Social Work, members were challenged to develop ideas for COVID-19 patient improvement and well-being.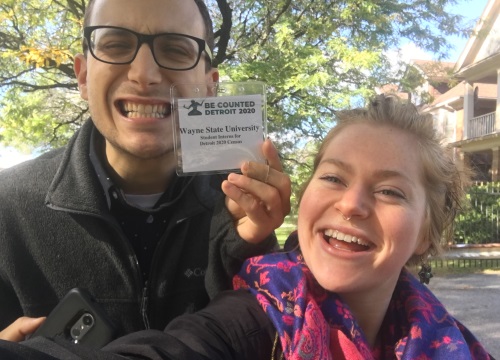 The first idea proposed by the newly formed Patient Improvement and Wellness Team was to develop a needs assessment so that resources for patient improvement can be matched with perceived personal needs of the patients. The Center for Social Work Research supported the development of a qualtrics survey that gathered feedback from physicians and residents at DMC about the needs of their COVID-19 patients. Although it was the first idea it was not the best idea; the best idea was one that created a call to action for others to get involved.
To that end, a Social Work student organization, the Coalition for Community Social Work, which organizes students for political action, community organizing activities, and volunteer opportunities sprung into action. CCSW co-presidents Colleen Elsbernd and Andre Iadipaolo have rallied the Social Work Warrior community to collect and disinfect books that are donated to the DMC as a "rolling library". Elsbernd stated "In the past, I would show up to a rally or participate in activities like promoting the Census and voter registration. Now we have to find other ways to advocate so I feel that I am doing something worthwhile." Books were provided this week to patients; reading materials that they can keep as they manage their road to improved health and well-being. Iadipaolo noted "I think it's great that we are thinking about the whole person in times of stress.  This is a pragmatic way for macro social workers to be involved."  
A second idea was simple –support the recovery of patients with COVID-19 with art. Many of the patients will benefit from having a piece of artwork on their wall or near their bed to let them know that people are supporting their recovery. It is a tall order to fill eight floors of patient rooms in a hospital with art. However, with the collaborative support of the art program at Detroit Country Day School, we will be getting 150 unframed prints of student art from the Detroit Country Day Art Sonia Collection. A note will be attached to each print with encouragement to take the artwork home for their continued recovery.
Finally, the Team is working to get donations for disposable phones, phone chargers, and iPads that can be made available on every floor for patients to use with the assistance of a health care provider if needed. During these critical times, talking with your loved ones means everything.
These efforts demonstrate how the School of Social Work answers the call to action in simple but useful ways.
To learn how you can be a Social Work Warrior In Action and support these outreach activities contact Lena Boraggina-Ballard at Boraggina.Ballard@wayne.edu or visit our Social Work Warriors In Action page to see how you can help community partners in need. Please note we are currently awaiting the results of the needs survey and will then resume material collections. We are not currently accepting book donations.
Read an update on the progress of the Patient Improvement and Wellness Team initiatives in our latest press release.