Retired School of Social Work professor begins new chapter of professional life with Fulbright trip to Taiwan
After 37 years of teaching, 28 of which were at Wayne State, Jerry Brandell, distinguished professor emeritus and former interim Social Work dean at Wayne State University (WSU), retired from his full-time appointment. Since that time, he's published two books, continued his clinical practice in Ann Arbor, taught classes at the Michigan Council on Psychotherapy and Psychoanalysis, and most recently lectured and conducted workshops at National Taipei University in Taiwan. Brandell received a Fulbright Specialist Award from the U.S. Department of State and the Fulbright Foreign Scholarship Board. His mission was to "exchange knowledge and establish partnerships benefitting participants, institutions overseas through a variety of educational and training activities within social work."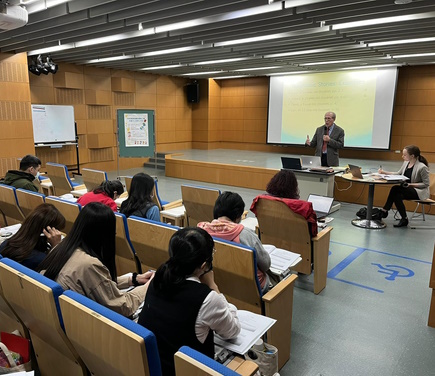 "The application process to finalize my Fulbright award involved a number of steps and approvals both here and in Taiwan, so I was delighted to receive full approval last December for the project," Brandell said.
For one month this past March, he taught two clinical workshops on therapeutic storytelling with children, and also lectured on such topics as metaphorical communication in child psychotherapy and the use of focal conflict analysis for teaching and supervision in social work.
"Therapeutic storytelling includes allegories, fables, myths, legends, and other forms of storytelling to teach important values and moral principles to young children. Since storytelling comes naturally to children, it offers an unparalleled means through which fantasies, anxieties, and conflicts occurring within the psyche, mind, or personality may be expressed. When used within the framework of a psychoanalytic treatment process, the storytelling is a shared process, with the therapist offering a therapeutic rendering of the child's story-narrative," Brandell explained.
Metaphorical communication in child psychotherapy refers to the way children typically represent themselves and their experience of the world in symbolic language. A major task of treatment is the "unpacking" of such metaphorical language through a variety of play techniques. "While in Taiwan, I also lectured on the focal conflict model, which may be used in teaching and clinical supervision as well as for the analysis of therapeutic process. Essentially, focal conflict is a psychoanalytic instrument that offers a framework for understanding and coding a client's verbal process. It assumes that most client statements can be understood to represent wishes, reactions, or solutions," he said. "When used correctly, all of these techniques can be extremely helpful to both therapists and their clients."
This was his second trip to Taiwan.
"I first traveled there in 2019. WSU Social Work Associate Professor Jun Sung Hong, had graciously offered to contact his friend, Professor Hsi-sheng Wei, who was at that time, chair of the Social Work Department at National Taipei University, on my behalf, and an invitation followed. I was there for about eight days on that first visit, and gave a lecture and a couple of workshops. This most recent visit, however, was significantly longer. I was extremely fortunate to have very gracious hosts in Taiwan. They were able to make arrangements for me to see much of the country during my visit. The two-day clinical workshop I gave was in a mountainous area near Taitung. Many of the community partners who attended the workshop were members of the Paiwan Tribe, one of 16 formally recognized indigenous tribes in Taiwan. I stayed four nights in a guesthouse owned by a tribal elder, one of the highlights of my visit. I also visited and lectured in Pingtung, Sanxia, and Taipei City," he said.
"The Taiwanese were incredibly friendly and hospitable. As an English speaker without any real understanding of Mandarin, it wasn't always that easy to make myself understood, but this never seem to be a very significant impediment. The food was wonderful, particularly the seafood. Hotels typically provide a generous breakfast, and every place I stayed had a state-of-the-art espresso maker! Interestingly, coffee is about as popular as tea in Taiwan," he noted.
After teaching nearly three decades at WSU's School of Social Work, Brandell sometimes misses the excitement of teaching clinical theory and practice to graduate students, though he has become far more involved in clinical practice and supervision in the last several years.
"I was also very pleased to have helped launch a unique doctoral concentration for preparing social work clinicians for advanced roles in clinical scholarship at universities, agencies, and advanced private practice," he said.
Brandell is also the (founding) editor of Psychoanalytic Social Work, a journal which launched in 1993. The publication is now the official journal of the American Association of Psychoanalysis in Clinical Social Work.
"With the constant pressures in academic social work to diminish the scope and depth of the clinical curriculum, our journal has a unique role – that of promoting psychoanalytic thought to social work students and professionals. I'm very pleased that among the members of our international editorial board, we currently have distinguished clinicians and scholars from six foreign countries, as well as many more from within the United States," he said.
Brandell has published 16 books altogether, with his latest being an updated second edition of Essentials of Clinical Social Work (Cognella, 2023), and an expanded third edition of his text, Theory and Practice in Clinical Social Work (Cognella, 2021).
Brandell and his wife, Esther, both enjoy traveling, and went to the UK last summer, where he presented a paper at an international conference in London and also conducted a clinical colloquium at the University of Edinburgh.
"This was our first trip out of the country since the beginning of the pandemic, so it was particularly enjoyable for both of us," he said.
Their two grandsons, ages two and six, live nearby, so they get to visit them often.
After publishing a book on the portrayal of psychoanalysis and psychotherapy in the popular cinema in 2004 (Celluloid Couches, Cinematic Clients: Psychoanalysis and Psychotherapy in the Movies) Brandell has himself written several screenplays (unproduced). His current project involves converting a 'series pilot' script into a theatrical production. Titled "Antimacassar" and set in the 1940's, it's the story of a Chicago psychoanalyst who discovers that he possesses an extrasensory ability to enter the minds of his patients and even participate in their fantasies and dreams, with unexpected – even terrifying – consequences.
Brandell also continues to play occasionally with a local big jazz band and his own small group in Ann Arbor. While in Taiwan, he sat in with the house jazz band at a popular local jazz club in Taipei. "At the last moment, I decided to bring along my soprano sax, thinking maybe there'd be an opportunity to jam with a local group, which is always fun," he said.
---
Author: Laura Hipshire laurahipshire@wayne.edu
Faculty spotlight