Social Work Warriors celebrate National Social Work Month - March 2021
Social work has been around for more than a century and now more than ever we recognize and celebrate the impact social workers have on individuals, groups, and communities in our hometown of Detroit and around the globe. Led by the National Association of Social Workers (NASW), every March we recognize the over 700,000 social workers in the U.S. and three million worldwide who positively impact our daily lives. The March 2021 theme, Social Workers Are Essential, highlights the pivotal role social workers play in community well-being, most recently to heal our nation during these times of pandemic, racial unrest, economic uncertainty and political divisiveness.
We encourage our Warrior Strong alumni, students and friends to celebrate social workers this March in the following ways:
Throughout March we will be spotlighting notable social workers who have worked tirelessly to change the futures of individuals, families and communities across Michigan. Learn more about these individuals below and on our social media channels: Facebook, Instagram, LinkedIn, Twitter.
Reverend Wendell Anthony was educated in the Detroit Public School system. He graduated from Wayne State University with a B.A. in Political Science, and Marygrove College with an M.A. in Pastoral Ministry. He also attended the University of Detroit for Advanced Study in Black Theology. Reverend Anthony is a Certified Social Worker with the State of Michigan. He became the Pastor of Fellowship Chapel in December of 1986 was installed as Senior Pastor in February of 1987.
Fellowship Chapel has a full-time outreach ministry with programs ranging from computer programming, adult education, narcotics and alcoholics anonymous, homeless assistance, tutoring from elementary through college, job training and placement, special SAT and ACT college preparation training, and much more. Reverend Anthony is the developer of the Isuthu Institute (Coming into Manhood) program for boys ages 6-18 and the Intonjane Institute (Coming into Womanhood) program for girls ages 6-18. It is one of the oldest mentoring programs in the country.
Reverend Anthony was elected as president of the Detroit Branch NAACP in 1993, the largest branch in the country, and was recently re-elected to an unprecedented 12th term in November 2016. During his first term as president of the Detroit Branch NAACP, Reverend Anthony organized and led a march of over 250,000 persons in the City of Detroit commemorating the 30th Anniversary of the march of Dr. Martin Luther King, Jr., to Detroit in June of 1963. This march occurred before the historical march in August of that same year. This was the largest march organized for this purpose since 1963. Additionally, he is also the founder of the Fannie Lou Hamer Political Action Committee, a grassroots activist organization supporting issues and candidates both locally and nationally with an 80% success rate for endorsed candidates.
Reverend Anthony is a nationally known civil rights activist and he has traveled extensively throughout Africa. His accomplishments are simply too numerous to list.
Reverend Anthony is married to First Lady Monica G. Anthony and has four daughters; Tolani, Maia, Megan, and Wendelaya, and one grandson; Christopher.
---
Detroit City Council Member Raquel Castañeda-López
Raquel Castañeda-López, a lifelong Detroiter, became the first Latina elected to Detroit City Council in November 2013. A social worker by trade, Castañeda-López has over ten years of experience in the nonprofit sector. She co-chairs the Council's Immigration Taskforce and has led the City's efforts in becoming a more welcoming city. She championed the creation of the Detroit ID and fought for environmental justice legislation to protect Detroiters right to breathe clean air. The only Councilmember in the State to have a mobile service office to deliver resources and information to residents, she is committed to fighting for policies that promote access, equity, and wellness.
---
Michigan Senator Stephanie Chang
Senator Chang, the first Asian American woman to be elected to the Michigan Legislature, worked as a community organizer in Detroit for nearly a decade before serving two terms in the Michigan House of Representatives. She served as state director for NextGen Climate Michigan, alumni engagement and evaluation coordinator for the Center for Progressive Leadership in Michigan, deputy director for the Campaign for Justice and as an organizer for Michigan United/One United Michigan. She also worked as a community engagement coordinator for the James and Grace Lee Boggs School and assistant to Grace Lee Boggs, an activist, writer, and speaker. The Senator also is a co-founder and past president of Asian and Pacific Islander American Vote-Michigan and she served as a mentor with the Detroit Asian Youth Project.
In the state House, Senator Chang led the way on air quality protection, education, criminal justice reforms, improving economic opportunities, and affordable, safe drinking water. She quickly earned her colleagues' respect and was named chair of the Progressive Women's Caucus in her second term. She also served on the leadership team for the House Democratic Caucus both terms and was a co-founder of the Asian Pacific American Legislative Caucus.
Senator Chang earned her bachelor's degree in psychology and master's degrees in public policy and social work from the University of Michigan. She lives in Detroit with her husband, Sean Gray, and two young daughters.
---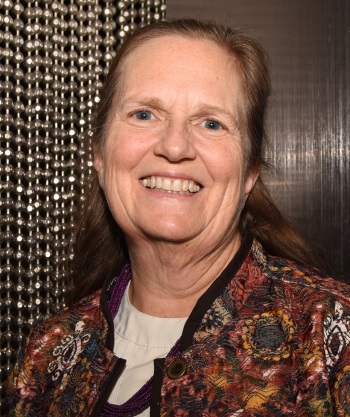 Amanda "Amy" Good
Amanda "Amy" Good has served as Alternatives For Girls' CEO since 1988. Under her leadership, AFG has grown from a volunteer-led project to a full-service agency serving homeless and high-risk girls and young women, along with their families, through street outreach, emergency shelter, transition to independent living, and prevention services. Good served as a gubernatorial appointee on the Michigan Committee on Juvenile Justice and serves on the Goodwill Industries of Greater Detroit board. Her awards include Oprah Winfrey's "Use Your Life" award (accompanied by $100,000 for AFG's capital campaign), the United Way Community Services "Executive Director of the Year" award, Leadership Detroit's "Leadership Challenge" award, and the National Council of Jewish Women Josephine S. Weiner Award for Community Service. Alternatives For Girls was awarded Crain's "Best Managed Non-Profit" award in 2017.
She is a lifelong runner, and, inspired by her son, she is a dedicated unicyclist. Good and her husband, David Finkel, raised their two children—now accomplished and contributing young adults—and continue to live, in their Detroit home. She earned her MSW degree from the University of Michigan.
---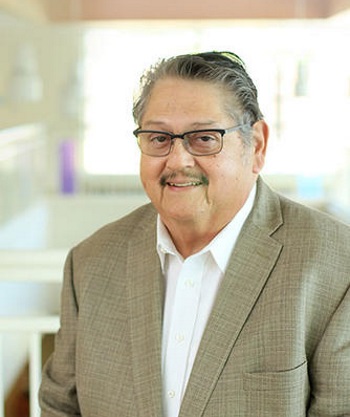 J. Ricardo Guzman - MSW '77
Ricardo Guzman has more than 45 years of experience working in health and human service programs targeting the southwest Detroit Hispanic community. He has graduate degrees from Wayne State University School of Social Work and The University of Michigan School of Public Health. From 1983-2016, Guzman served as Chief Executive Officer for the Community Health and Social Services Center (CHASS), a Federally Qualified Health Center (FQHC) organization in Detroit. The Center provides a full range of culturally competent primary health care and social services to the residents of Detroit with special emphasis on underserved African-American and Hispanic populations. During his tenure as CEO, Guzman was successful in obtaining federal, state, and local governmental, as well as foundation grant funding to plan and implement several major community-level interventions addressing Diabetes, Intimate Partner Violence and Chronic Disease Care Services in Detroit. Guzman has testified before Congress in Washington DC as well as the Michigan Legislature. Through his involvement with the Detroit Community-Academic Urban Research Center based at the U of M School of Public Health, Guzman serves as a leading advocate for Community-Based Participatory Research focused on community participation in the planning and implementation of health programs. Guzman's publications include co-authoring articles in The American College of Obstetricians and Gynecologist, Health Education and Behavior, Ethnicity & Disease and the American Journal of Public Health. Guzman is a present/past member in several local and national organizations including the National Association of Community Health Centers in Washington DC, where he served as Chair of the Board of Directors from 2014-2016, the Michigan Primary Care Association, National Association of Social Workers and the National Alliance for Hispanic Health. He has received numerous awards including the National Hispanic Health Leadership Award in Washington, DC. from the Alliance for Hispanic Health, the Michigan Chapter of the National Association Of Social Workers-Social Worker of the Year; the Zenobia Payne-Drake Humanitarian Award from the Detroit Black Family Development Inc. In May 2012 Guzman completed the development and construction of a new 17 million dollar, 48,000sq. ft. award-winning health and wellness center to serve the residents in Southwest Detroit.
Guzman currently serves as Executive Consultant to the CEO and CEO Emeritus of CHASS Center.
---
Paul Hubbard - MSW '71
Born in Cincinnati Ohio, Paul Hubbard graduated earned a bachelor's in Business Education from Ohio University and was named OU Alumni of the Year in 2020. Hubbard has had extensive experience teaching, including adult education classes at Stowe School in Cincinnati, Ohio and business and data processing at Northwestern High and Cass Tech in Detroit. Hubbard attended the WSU School of Social Work and graduated with an MSW in Community Organizing and Social Work Administration in 1971. While at Wayne, Hubbard was the President of the Association of Black Students for 2 years and organized and was President of the Association of Black Social Work Students. He was also VP of the Association of Social Work Students. Hubbard has contributed to the WSU School of Social Work in multiple ways, including serving as a member of the Board of Visitors and currently has a conference room in the Social Work building and scholarship named after him. After getting his MSW, Hubbard served as the Director of the Inkster Michigan Office of Family and Neighborhood Service of Western Wayne County and then went to New Detroit where he became President. After New Detroit, Hubbard was recruited to serve as the City Director of Neighborhoods and Temporary Director of Economic Development in Toledo, Ohio. Hubbard was selected by President Clinton as one of the 100 Community Builders for HUD in the U.S. Hubbard also completed post-graduate work at Harvard's Kennedy School of Government. He has built 18 houses in Highland Park Michigan for low-income families and coordinated a training program to teach the unemployed skill trades.
Hubbard has sat on multiple Boards of Directors as such organizations including Grand Valley University, Mary Grove College, UD Social Work, Harper Hospital, Southwest Hospital, the Urban League (national) and State of Michigan Commissions just to name a few. He has over 100 awards and honors. Hubbard served as the National VP of the Association of Black Social Workers, organized the Toledo Chapter of the Urban League and served as the Vice-Chairman of the State of Michigan Social Work License Board of Directors. At present, he is on the Presbyterian Village of Michigan Board of Directors, Trustee of Hartford Church in Detroit, Hartford Senior Village Board of Directors Detroit and also serves on the Mayor of Toledo Community Meeting Group. Hubbard is currently a Real Estate Agent with Howard Hanna Real Estate Services. Hubbard has a son, daughter, grandson and granddaughter.
---
Saunteel Jenkins – BSW '98, MSW '99
Saunteel Jenkins currently serves as CEO of The Heat and Warmth Fund (THAW), a non-profit organization that provides energy assistance to Michigan residents in need. Last year THAW provided energy assistance to over 26,000 low-income Michigan households. Prior to her role at THAW, Jenkins served as a member of Detroit City Council for five years, during which she was voted by her colleagues to serve as Council President-the first council member in 90 years to be elected by the body for a leadership role.
An advocate for public service and civic involvement, Jenkins has served on a number of boards that have an impact on city government, the city's quality of life and Detroit's future including the City of Detroit Election Commission; Detroit Riverfront Conservancy.
Jenkins, a lifelong Detroiter, worked as a social worker, director of the residential treatment center at the Mariners Inn homeless shelter for men in Detroit, national business development director for a private education company that provides services to low-income children in at-risk school districts, and at one time ran her own dessert catering company. She received her bachelor's and master's degrees in social work from Wayne State University. (Photo Credit: Crain's Detroit Business)
---
Joe Kort - MSW '86
Psychotherapist, coach and author Joe Kort, PhD, MSW, MA is the founder and director of The Center for Relationship and Sexual Health, located in Royal Oak. His practice specializes in LGBTQIA Affirmative Therapy, mixed-orientation marriages and relationships, male sexual fluidity issues, sexual addiction, sexual abuse and Imago Relationship Therapy. Kort's practice is mixed with straight, gay, lesbian, bisexual, and transgender individuals and couples. Kort's career focuses on advancing the social acceptance, and professional treatment of the gay, lesbian, bisexual and transgender communities.
Kort graduated from Michigan State University with dual-majors in Psychology and Social Work, and earned his master's in Social Work from Wayne State University. He received his Doctorate in Clinical Sexology from the American Academy of Clinical Sexologists.
---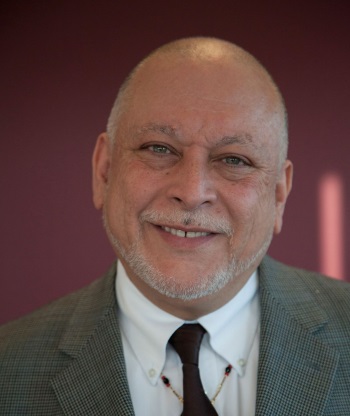 Osvaldo "Ozzie" Rivera
Osvaldo "Ozzie" Rivera earned his MSW from the University of Michigan and has worked in a number of community-based non-profit and arts/cultural entities. He also has held key positions in state government and in college and university settings. His primary focus has been in organizing low-income and communities of color around a number of issues including youth, substance abuse/AIDS, and empowerment strategies. He is a performing artist and historian of Afro Latino contributions to U.S. history and culture.
Born in Puerto Rico, Rivera's family moved to southwest Detroit when he was an infant and raised him and his siblings in the Corktown neighborhood. For close to five decades, he has been active in community advocacy and human services. He served as mental health director for ACCESS (Arab Community Center for Economic and Social Services), as the executive director of Latino Family Services and as Dean of Students at Wayne County Community College. In 1998, he started a ten-year tenure as the Director of Multicultural Affairs and Assistant Professor (Social Work/Sociology) at Madonna University, which led to his continued role as a college professor and lecturer in Social Work and Afro Latino Studies in a number of metropolitan Detroit. In 2008, he provided oversight to Children/Family Special Projects for the Wayne County division of the State of Michigan's Dept of Human Services. From 2013-2016 he led Community Engagement efforts for Southwest Solutions. Currently he consults with a number of social service and arts organizations.
Rivera is an amateur historian of Latin-Caribbean music, often presenting on Afro-Hispanic music, a musical style he also lectures on and performs, including as co-director of the Afro Puerto Rican drum and dance troupe, RicanStruction. During his lifetime he led a number of performance troupes and bands, and currently leads the salsa/Latin Jazz band, La Inspiracion.
---
Dashuna Robinson
Dashuna Robinson is a proud 2003 graduate of Benton Harbor High School. She attended Western Michigan University for her undergraduate degree, where she became a member of Delta Sigma Theta Sorority, Inc. and graduated with a Bachelor of Arts in English literature, with a minor in Communication. She is currently finalizing her MSW degree at Western Michigan University, with a Policy, Planning and Administration concentration, where she also serves on the Diversity and Inclusion Committee for the School of Social Work.
Robinson has serviced families in need for over 13 years. She is currently employed with the Michigan Department of Health and Human Services for Berrien County as an Assistance Payments Supervisor and as the co-Champion for Diversity, Equity, and Inclusion within her county office. She has worked in several social work-related positions advocating for families in need, victims of domestic and sexual violence and youth in crisis. She served as the Program Area Supervisor of Residential Services for the YWCA of Kalamazoo, where she directly supervised the domestic and sexual assault shelter, volunteers, and interns; Victim Advocate Counselor for the YWCA; Assistant Supervisor of the Berrien County Juvenile Center; MSW intern for Let's Talk About It Girls Home; and as a Shelter Care Worker for the Ark Shelter for Youth in Crisis.
Through her work within the field of social work, Robinson has grown to understand the significance of political governance and policy, prompting a journey into political leadership. In 2020, she increased her political involvement through donations, social media campaigning and local leadership. She is the President of the Board of Education for Benton Harbor Area Schools. She is also a financial member of the National Association of Social Workers, Democratic National Committee, Michigan Democratic Party, a recently elected Trustee for Michigan's Sixth Congressional District, and an active member of the Berrien County Democratic Party. She also serves on the Social Action Committee for the Benton Harbor/St. Joseph Alumnae Chapter of Delta Sigma Theta Sorority, Inc. and is a member of the Berrien Community Foundation's Women's Giving Circle, a group of dynamic female leaders in Berrien County.
Robinson is married and raises her two children with her husband in her hometown of Benton Harbor, MI. She is committed to the uplift of disenfranchised populations and leads in spaces that seek to accomplish such; economically, educationally, and politically. She is excited for future opportunities to serve.
---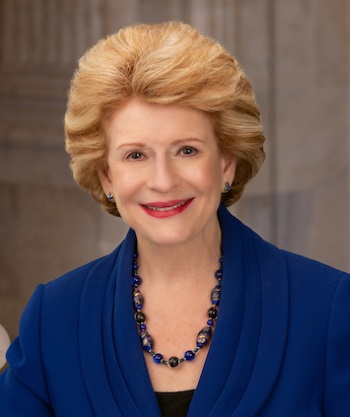 U.S. Senator Debbie Stabenow
U.S. Senator Debbie Stabenow made history in 2000 when she became the first woman from Michigan elected to the United States Senate. As Chairwoman of the Senate Agriculture Committee, a senior member of the Senate Finance Committee, and Budget Committee, and a member of the Environment and Public Works Committee, she has a powerful and unique role to play in shaping our nation's health care, manufacturing, infrastructure, environment, and agriculture policies.
Senator Stabenow was inspired to run for office after leading a successful effort to stop the closure of a local nursing home. She was elected to the Ingham County Board of Commissioners when she was 24 years old and two years later was elected Chair of the Board. She served for 12 years in the Michigan House of Representatives (1979-90) and four years in the State Senate (1991-94). Two years later, she was elected to represent Michigan's 8th Congressional District in the U.S. House of Representatives. She made history in 2000 when she became the first woman from Michigan elected to the United States Senate.
Senator Stabenow is a national leader of the effort to make sure people have quality, affordable health care, including prescription drugs, mental health care, and addiction treatment. In the wake of the Flint water crisis, she led efforts to pass $170 million in assistance for Flint to repair and replace pipes and to address critical health needs. As Ranking Member of the Senate Finance Subcommittee on Health Care, Senator Stabenow is a champion for Medicare, Medicaid and the Children's Health Insurance Program and a passionate advocate for Michigan's community health centers.
---
Alice Thompson - BSW '80, MSW '81
Alice Thompson lives her credo: service to others before self. Thompson's path to service in social work began in 1970 in Detroit with the Model Neighborhood initiative, part of the federal War on Poverty program. Inspired to pursue a career in a helping profession, Thompson completed her bachelor's in social work in 1980 at Wayne State University. She was active in the Detroit chapter of the National Association of Black Social Workers, for which she later served as President. Thompson was the first African American woman to manage Boysville of Michigan, a home for delinquent boys while also an adjunct professor of social work at Wayne State.

Black Family Development, Inc., a nonprofit social service agency, asked Thompson to serve as its CEO in 1994. Thompson credits the School of Social Work with teaching her the grant writing, budgeting and personnel management skills she employed to grow BFDI's annual budget from $1.2 million to $29 million by 2007. Because BFDI's budget represents the agency's capacity to provide comprehensive social services to the children and families of Detroit and Wayne County, Thompson's proudest achievement is its growth. Currently, Thompson serves as Chair of the WSU SSW Board of Visitors and she created an endowed scholarship for social work students.
Thompson's advice to recipients of her scholarship and all young social workers is to "always give back, and keep service to others front and center."

March 1, 3, 8, 10, 22, 24, 29, 31: Social Work Wellness Yoga
12 - 1 pm on Zoom

Take a moment for self-care this March and join us for yoga hosted by Caitlin Brown from Mindful Detroit. This series is open to all skill levels and will launch with seated yoga and relaxation and gradually progress to mat yoga.
---
March 1 - 5: Graduate Research Symposium
9 am - 12 pm on Zoom
The Graduate Research Symposium is an annual event that showcases the research and scholarly work of graduate students and postdoctoral scholars across disciplines at Wayne State. Attendees will be able to easily browse all posters and interface with researchers from the comfort of their homes. We encourage our Social Work Warrior Community to attend and support our participating Social Work students. Learn more
---
March 2, 9, 16, 23, 30: The Party Line
1 - 2 pm on Zoom
Join the Party Line, a social group for older adults in Detroit! Hosted by the Healthier Black Elders Center at Wayne State University, The Party Line is a virtual social group for anyone feeling isolated. There will be icebreakers, games, poems, videos, and general topics.
---
March 9: Factors that Influence Public Attitudes on Working with Individuals with Bipolar Disorders
12 - 1 pm on Zoom
The WSU School of Social Work Center for Social Work Research invites you to attend the next session in the Virtual Research Discussion series with Assistant Professor Lisa O'Donnell. O'Donnell will present her recent research surveying the general public on their attitudes and perceptions on working with individuals with bipolar disorder.
---
March 9: Re-imagining Resilience as multi-disciplinary, multi-level, and interconnected
12:30 - 1:30 pm on Zoom
Social Work Postdoctoral Fellow Allison Laskey, PhD and Social Work and Anthropology (SWAN) Doctoral Student Erin Stanley, MSW, MA are presenting as part of the WSU Humanities Center Brown Bag series. Laskey and Stanely will discuss the concept of resilience that has shaped theories of bouncing back, moving forward better, stability and change through a range of issues, such as disaster recovery, infrastructure maintenance, and social adversity. This discussion will take a systems perspective building on disciplinary insights through a more holistic and integrated framework as we discuss traditions of resilience that pertain to the provision of clean drinking water.
---
March 11: Which Legal Structure is Right for my Social Venture?
2 - 4 pm on Zoom
Join us for this important webinar designed to help would-be and existing social entrepreneurs better understand the legal entity options available for starting, growing and scaling social ventures. Experienced attorneys will guide you through various entity structures including for-profit, nonprofit and hybrid models and discuss key variables in decision-making so that your venture can achieve maximum social impact. Please note that legal entity structures differ by state and this workshop is open to a national audience so the information provided will present a general overview of entity structures not specific to any particular state. Cost to attend: $20. Attendees can earn 2 Social Work CEU's for a cost of $10. Learn more
---
March 13: Virtual Spring Open House
10 am - 1 pm - Virtual
The Wayne State University Spring Open House is an exploratory program for prospective students to learn about the degree programs and student support services that Wayne State has to offer, including the School of Social Work. Come and hear from our faculty, staff and students about your future as a Wayne State Social Work Warrior and learn what an impact a BSW, MSW, PhD, or graduate certificate could have on your future! Learn more. Unable to make the Spring Open House? Join us at an upcoming virtual BSW or MSW information session.
---
March 25: Do Black Men deserve the American dream? The Impact of Gendered Deservingness on economic security for marginalized families.
3 - 5 pm on Zoom

We are proud to host David J. Pate Jr., PhD as the keynote speaker in the third and final lecture of our Diversity, Equity and Inclusion series. Pate will be presenting "Do Black Men deserve the American dream? The Impact of Gendered Deservingness on economic security for marginalized families." An expert on low-income African-American men, fatherhood, and child support, Pate studies how black men are affected by the social welfare system and the challenges that impede their ability to attain economic security. His research projects involve the use of qualitative research methods to examine the life course events of African-American men and boys. Attendees can earn 2 Social Work CEUs for a cost of $5. Learn more
---
March 26: 2021 Social Work Student Research Symposium
10:00 - 11:30 am on Zoom
The Center for Social Work Research is honored to welcome a faculty member, two students, and a community member to share their perspectives and experiences of being engaged in research for the 2021 virtual Social Work Student Research Symposium. The event will also provide students an opportunity to present their research in 3-minute lightning-style presentations with classmates, faculty and the social work community.