School of Social Work lends staff, expertise to university mental health, suicide prevention initiatives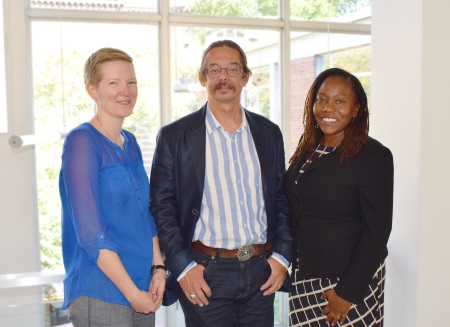 The School of Social Work is working to increase mental health awareness and help-seeking among the Wayne State community through a variety of campus-based initiatives that focus on prevention, detection and intervention as well as supports for diverse populations.

Most notably, the school since March has trained nearly 200 university students and employees in mental health first aid (MHFA), a national program for recognizing the signs of mental illness or substance misuse and referring individuals to treatment. As a participant in Wayne State's campus-wide Suicide Prevention Initiative, the school, in collaboration with the Detroit Wayne Mental Health Authority, has conducted 11 eight-hour MHFA trainings for student groups, staff at the Campus Health Center, tutors and counselors at Academic Pathways to Excellence (APEX), approximately 100 academic and athletic advisors, and staff at Housing & Residential Life, the Dean of Students Office, and the Office of Federal TRIO.

Funded by a $300,000, three-year Garrett Lee Smith Campus Suicide Prevention Grant, the Suicide Prevention Initiative seeks to develop an infrastructure of education, training and dissemination of suicide prevention information to faculty, staff, students and their families. Although all members of the campus are included, this initiative provides targeted programs and outreach to students at particular risk including those who identify themselves as LGBTQ, military veterans, those living in campus residence halls, minority students, and those with mental health disabilities. Other WSU collaborators include Counseling & Psychological Services (CAPS), the Campus Health Center, the College of Nursing, the Psychology Clinic, the Dean of Students Office.

Social Work's contributions to the program are led by Shantalea Johns, an academic services officer and the lead MHFA trainer, Caitlin Brown, manager of research support who conducts MHFA training evaluations, and Associate Professor Michael Kral, a suicidologist and co-creator of the university's suicide research group.

Johns has conducted youth MHFA training for the campus community since 2013, when the School of Social Work and the Michigan Area Health Education Center received federal funding to train Greater Detroit professionals. In 2017, Johns was trained in adult and higher education MHFA as part of the Suicide Prevention Initiative. She said the purpose of the trainings is to increase the likelihood that a person experiencing a mental health crisis will cross paths with someone who can help.

"The fact that we are getting a variety of staff and faculty trained helps to make sure that students who are exhibiting signs of a struggle aren't overlooked just because they are not seeking help in a clinical setting such as CAPS," said Johns, noting that employees ranging from professors to custodial staff can be tipped off to a crisis by crying spells, withdrawal from others, neglect of responsibilities, anger, mood swings, lack of emotional responsiveness, feelings of helplessness, hopelessness, and irritability. "We are creating a culture on campus where everyone can take a role in providing support until professional help is given. We are also serving the larger goal of providing as many students as possible the tools they need to stay in school, because good mental health is critical to academic success."

Rachel Pawlowski, an academic advisor in the Irvin D. Reid Honors College, has taken the MHFA training twice. Although a licensed professional counselor, Pawlowski said the trainings have provided her with strategies for "starting a conversation" with students who have not come to her for counseling.

"If a student comes to me to schedule classes and I see they have a flat affect or their appearance is disheveled and that is out of character for them, I have a way to broach that topic with them," Pawlowski said. "But the training emphasizes that you don't need to be a behavioral health professional to say 'How are you doing today?' to someone who looks like they are troubled. Being empathetic is so important, and many people don't know they have that skill."

Pawlowski said the trainings have also provided her with an important higher education context, helping her debunk misconceptions people often have about honors students – most notably that they don't experience mental health problems.

"Honors students often suffer from anxiety and depression transitioning from high school to college because they experience challenges to their identity as high-achievers," she noted. "They may see a dip in their GPA, struggle with study skills or time management, or lose their support system as their peers spread out across the country. These things can shake their confidence in themselves, make them feel they are disappointing their families, and trigger mental health crises."

In addition to the MHFA trainings, Johns is lending her expertise to other mental health efforts. With CAPS counselor and social work research certificate student Patti Dixon, she co-chairs the university-funded annual mental health awareness walk and suicide awareness day. Held in March, which is National Mental Health Awareness Month, the one-mile walk starts with a keynote speaker and has garnered participation from the provost and other university officials.

Meanwhile, Johns is helping to implement a comprehensive mental health plan developed for Wayne State by the JED Foundation, which created the web-based resource Ulifeline.org to connect students with their college's mental health center, and has been invited to sit on the advisory board of the Steve Fund, the nation's only organization focused on supporting the mental health and emotional well-being of young people of color. As a board member, she will develop targeted events and programming for WSU students of color in collaboration with the Office of Multicultural Student Engagement, the social work Muslim women association, and the association of black social workers.

The National Suicide Prevention Lifeline is 1-800-273-8255.