Student Research Opportunities
Social Work Student Research Community
The Social Work Student Research Community (SWSRC), formerly known as SMART was founded in 2010 to promote, develop, and sustain an environment in which Social Work students are afforded opportunities to apply theoretical foundations for research to the real world. SWSRC is a cross-program community designed to provide opportunities for students to attend professinal development events, collaborate with social work faculty on your current research projects, and access online resources to guide you through the research process.
SWSRC operates primarily online. Through our Canvas page, we offer a variety of resources to ease your journey through the research process, and examples to help you check if you're on the right track. Our resources are meant for both novice and experienced researchers, and everyone in between! Resources include: Grand Challenges for Social Work, Research options for MSW students, Research opportunities and jobs, CITI training, SWSRC evaluations, Panel discussions, Starting and finishing the research process, SPSS and statistics, Qualitative methods, Data presentation and visualization, Program design and evaluation, and conveniently located WSU logos and marketing materials to use when your research is ready to disseminate!
SWSRC students participate in a culture of learning that emphasizes the importance and value of research competence in the field of social work
Request to join our Canvas page to gain access to resources, receive announcements about job and volunteer opportunities, and connect with faculty and fellow students. Contact Kendra Wells, Manager of Research Support with questions about SWSRC.
SWSRC Highlights
2019
In 2018-2019 the SWSRC Canvas site added over 25 members, matched 4 students with faculty projects, and hosted 5 events including: 2 SPSS hands-on workshops, 1 workshop for creating academic research posters, and 2 discussion panels.
Discussion panels featured professional clinical social workers speaking about how they use research in their everyday practice and why it's important for clinical social work students to be engaged with research. Student panelists shared with their peers stories and advice on how they got involved in research and experiences of working with facutly. Check out the SWSRC Canvas page for recordings of both panels!
Read our evaluation report for the Professional Clinical Social Worker Panel here!
2018
In 2017-2018 over 230 students were members of the SWSRC Canvas site, 23 unique students participated in meetings or events, and 6 students were matched with faculty projects.
Social Work students have been involved in research by assisting faculty with:
Literature searches and literature reviews
Survey administration
Conducting focus groups
Interviewing research participants
Transcription and qualitative coding
Data entry and analysis
Writing of manuscripts to submit to peer-reviewed journals
Learn more about Social Work students' involvement in Social Work research!
Annual Michigan Association for Evaluation Conference
2017
SWSRC strives to offer students opportunities that will build their research experience. One way, and a fun way to do this is through professional development events such as the Annual Michigan Association for Evaluation Conference. 
2018
The Center's Graduate Intern, Kendra Wells (right) presented findings on SWSRC engagement, which included recommendations on how to increase participation at the 2018 Michigan Association for Evaluation Conference in Lansing, Michigan and won first prize for poster presentation. Wells was joined by Center staff and SWSRC students (below). View her poster and more information about the 2018 MAE Conference here.
2019
The Center's Graduate Intern, Sarah Charbonneau (below) joined Center staff and SWSRC students at the 2019 MAE Conference where she presented her gerentology research poster titled, Life Review and Reminiscence with Older Adults in Detroit. Charbonneau's research detailed the results of a 200-hour service learning project with groups of older adults, which was part of her recently completed Albert Schweitzer Fellow award, administered by Authority Health.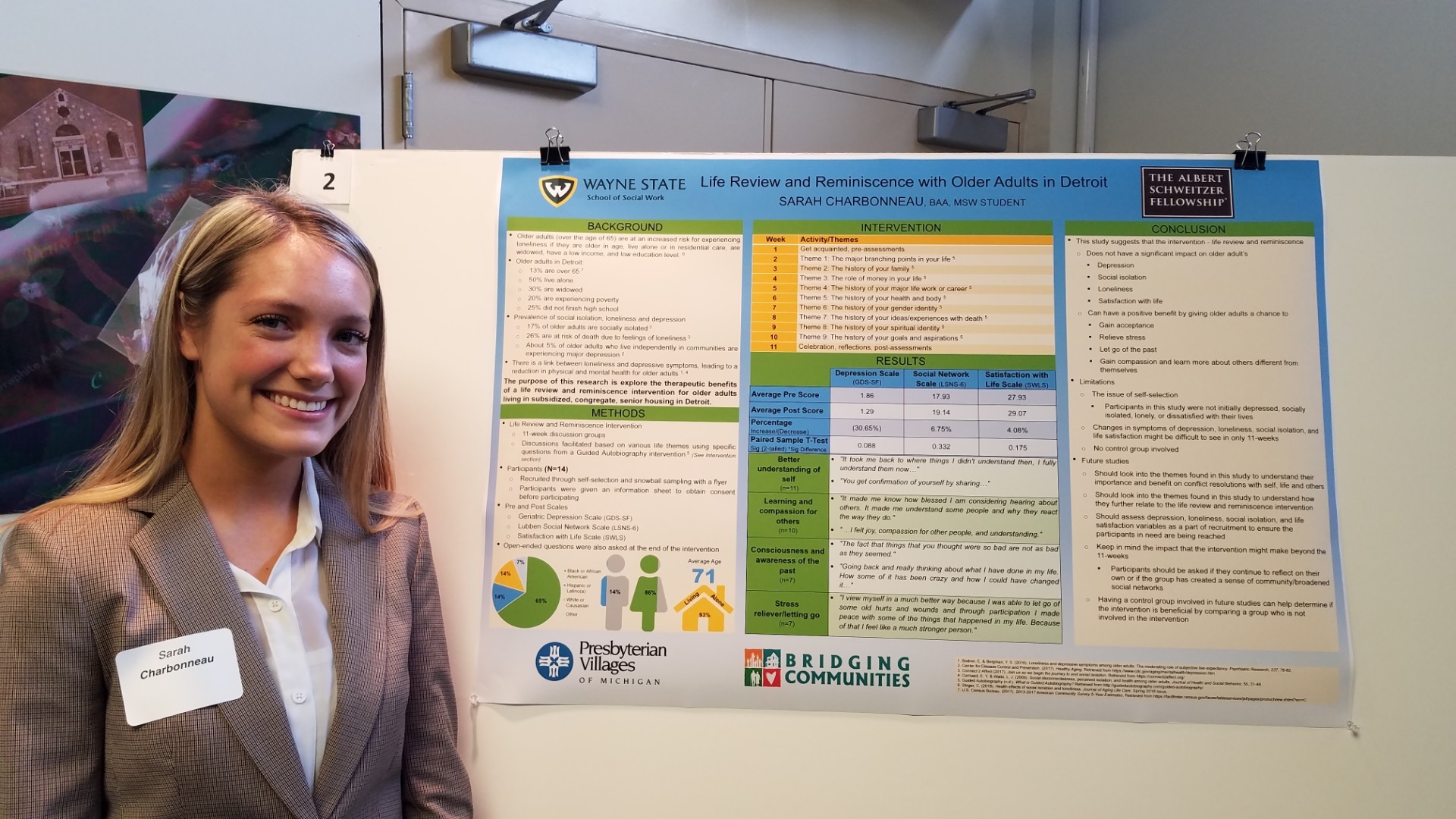 Annual Social Work Student Research Symposium
With the Center, SWSRC began hosting the annual Social Work Student Research Symposium in 2018. Students from the undergraduate, graduate, and doctoral levels collaborated with social work faculty on the faculty's current research and presented findings with academic research posters.
"Empathy is a good skill for social workers to have, but research makes you a strong practitioner" - Dr. Joanne Sobeck, Associate Dean for Research, Director of the Center for Social Work Research
The Symposium was developed to encourage social work students' to be engaged in faculty research while also offering the opportunity to share findings and network with other social work researchers. As students, it can be difficult to find opportunities to present research findings. The Symposium served as a venue for students to practice presentation and possibly test for the first time how the public responded to their findings.
2019
The 2nd annual Student Research Symposium was held on April 12, 2019. We received 11 poster submissions from 12 presenters.
Dr. Joanne Sobeck, Associate Dean of Research at the SSW welcomed students, faculty, and guests with opening remarks, reflecting on the importance of research and its value to the profession. 
Winning presenters and posters included:  Partnership for fatherhood success: Collaboration between Wayne State University and the F.A.R.M. Project by Amani El-Edlebi, BSW;
Life Review and Reminiscence with Older Adults in Detroit by Sarah Charbonneau, MSW;
and Individuals with Mental Illness who have Multiple Encounters with Law Enforcement by Tamarie Willis, PhD candidate
2018
On April 20, 2018, the Center for Social Work Research held its first annual Student Research Symposium at the School of Social Work. The 1st annual Symposium included a keynote address by Jessica Camp, which touched on the intersections of clinical practice and research.
Approximately 30 people attended, primarily social work students; 13 students participated.
Winning presenters and posters included: The "education crisis" in Detroit & potential policy solutions by Cassandra Northrup, BSW;
An evaluation of student engagement in research: Challenges and promising practices by Kendra Wells, MSW;
and Utilization and understanding of health care services for former foster youth by Alexandra Cameron, PhD candidate
Undergraduate Research Opportunities

Wayne State University UROP (Undergraduate Research Opportunities Program) offers exciting avenues for undergraduate students to engage in research including hands-on research experience, grant funding opportunities, conference participation, and assistance finding research internships, training programs and faculty mentors.
School of Social Work BSW student, Joseph Urbiel received a UROP award during Spring/Summer and Fall of 2017. Joseph worked with assistant professor Jamey Lister on a project titled, Injection opioid use among Black patients at an urban methadone clinic: An evaluation of risk/protective factors to injection status
SPSS Resources
View full list of SPSS resources and public datasets (PDF)